LLDPE Plastic Rotomolding Pulverizer
View large picture
Description

Video

Components

Business Terms

Equipment Service
WAROOETECH pulverizing systems, are high capacity systems for the profitable pulverizing of thermoplastic and other heat sensitive materials such as LDPE, LLDPE, MDPE and HDPE, as well as other heat sensitive thermoplastics such as PET PP and EVA without the added cooling of nitrogen.
LLDPE Plastic Rotomolding Pulverizer blades:


Our pulverizing systems produce quality powders with excellent flow properties and bulk densities and are mainly used for the following applications:
Pulverization of rigid PVC (pipe and profile granules)
Pulverization of PE for Rotomolding
Pulverization of PE for textile and metal powder coating
Pulverization of PP for fiber manufacture
Pulverization of compounds for floor coverings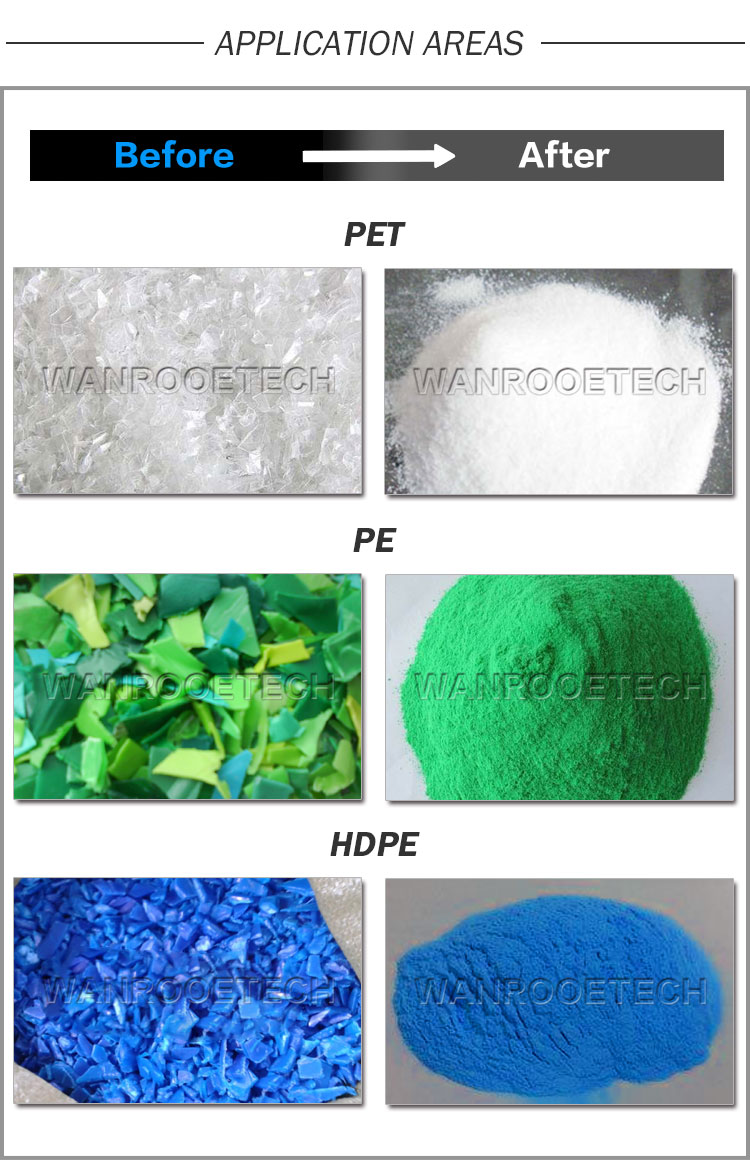 This Pulverize machine is simple, clearly arranged and operates with a further developed screening machine. The advantages for the customer are obvious:
Quality powders with best possible flow properties and high bulk density
High throughput capacity at low specific power consumption
fully automatic, continuous operation
Low demands on operating personnel
PNMF Series HDPE,LLDPE,LLDPE Pulverizer Model:
Model

PNMF-300

PNMF-400

PNMF-5

00

PNMF-600




PNMF-800

Disc Diameter

300mm

400mm

500mm

600mm




800mm

Main Motor

11-15kw

22-30kw

30kw-37kw

45kw-55kw




75kw-90kw

Air Blower

3kw

4kw

5.5kw

5.5kw




7.5kw

Vibrating Motor

0.55kw

0.55kw

0.75kw

1.1kw

1.1kw

Air Lock Motor

0.75kw

0.75kw

0.75kw

0.75kw

0.75kw

Capacity(kg/h)

30-50

50-120

120-200kg

200-350

400-600
Notes:
PNMF-500,PNMF-600,PNMF-800 model pulverizer frequency convertor can be configured as optional.The end plastic powdercapacity will be different becasue of the material status, and also the end powder size.
WANROOTECH's high quality Plastic Pulverizer Grinding Disc or Mill, which can be coated TiAlN or WC(tungsten carbide),One set disc or blade can instead two or three sets common pulverizer disc mill or plates

This is our Europ Customer Visited WANROOTECh and tested our PNMF-800 Model Rotomolding Pulverizer, and with the capacity about: 400-600kg per hour, and the Pulverizer disc is about: 800mm

WANROOETECH's LLDPE LDPE HDPE MDPE PE Plastic Rotomolding Pulverizer Running Russia Customer,Good Quality Pulverizer machine can make the customer glad and setup long terms cooperation with WANROOTECH,Never stop to improve the pulverizer machine quality and Service!

Product Type: Plastic Rotomolding Masterbatch Powder Coating Compounding Pulverizer
Used For Material: LLDPE, LDPE, HDPE, MDPE, PVC, PET, ABS, EVA
Application Field: PVC Recycling, Rotational Molding, Metal Plastic Powder Coating, Compounding and Master batching
Place of origin: China
Price Terms: EXW,FOB, CIF
Payment Terms: L/C,or T/T
Package: Wood Box, Wood pallet, tailor-made
Delivery Time: 15-30Working days
Brand Name: WANROOETECH
Delivery Times
30-90 working days since receiving advance payment. If you cannot wait for this suggested delivery time, please contact us freely, we will make any arrangements we can to meet your requirements.
Packing
Wood Pallet, fumigation-free wooden cases if necessary. All the key parts of the equipment will be painted with anti-rust oil before shipment and packing.
Technical documents
WANROOETECH will offer you all necessary documents, e.g. general layout plan, electrical diagram and user manual after the contract is executed.
Arrangement for inspection, installation and testing work
After informed machines ready for inspection, customer can send engineers to WANROOETECH; Customer also can consign WANROOETECH to finish inspection work.
When the machines are delivered to customer's factory, please arrange preparation work before engineers arrive if require.
WANROOETECH will send technicians to the factory after preparation work is completed;
Technicians will be responsible for guide on-site installation and testing machines involved.
Meanwhile technicians will give free training lessons to labors in customer's factory.
The customer just needs to bear expenses generated for this work, e.g. airplane tickets (round-way), residency, meals and allowance of USD50 per day for each technician.
Quantity and quality guarantee
A: Quantity/Quality Discrepancy to destination port during transportation:
In case of quality/quantity discrepancy to destination port in transportation, customer should file claim within 30 days after the arrival of the goods at port of destination.
B: Guarantee period and after-sales services:
12 month since installation finish and machine normal working. During this guarantee period, WANROOETECH will provide spare parts without any charge in case of quality discrepancy caused by us. If the malfunctions are caused by your incorrect operations, WANROOETECH will provide spare parts at cost.
C: Long-term service:
WANROOETECH will charge the buyer cost of spare parts beyond guarantee time and provide long-term technical guide.
Didn't find what you are looking for? Post a buying lead.
Plastic Rotomolding Masterbatch Powder Coating Compounding Pulverizer - manufacturer search on: Google, Yahoo, Msn
Related Searches: