Waste Plastic Film Chemical Fiber Densifier Machine
View large picture
Description

Video

Business Terms

Equipment Service
Description:
The agglomerator (plastic film granulator) is a kind of waste thermoplastic thin films, and wall thickness is less than 2 mm of products can granulated immediately. It can be wastes or thin film of soft polyvinyl chloride (PVC), high and low pressure polyethylene, polypropylene and polystyrene, other thermoplastic plastic on aggregate, also on foaming polystyrene abandoned products for granulation.
Working principle:
Putting the waste into machine pot body make the material be quickly cut by the high speed rotating turn the blade and the fixed blade shear ,then the material along the pot body wall by the knife dish centrifugal force function ,at the same time, the material turning up and down by paddle and from all around to move towards to the center of the pot body. The friction of material itself and friction of pot wall and blades produce much friction heat under the high speed, making the materials temperature rises to the half-plastic condition and connects to small lump. Before the materials will block, advanced preparation quantitative water will all spray to the material. The cold water touch the hot materials will gasify and take out the surface heat soon , making the surface of the materials cool quickly and avoid blocking, then after crushing effect between rotary blade and fixed blade to cut into particles(irregular size materials). During the crushing, Also may join the appropriate color pigments according to needs.
Features:
1.The PP/PE Plastic Agglomerator is used for fast recycling of waste films, woven bags.
2.The Machine can quickly granulate used thermoplastic film or the thermoplastic products which thickness less than 2mm.
3.It's applicable to the agglometating of soft polyvinyl chloride, HD/LD polyethylene, polypropylene, polystyrene and other used thermoplastic products or film.
4.The granules produced by the plastic agglomerator can be supplied to pelletizing machine for further granulating or just fed to extruer and injection machine.
5.It is for for augmentation of the bulk density of the LDPE, HDPE , PP , BOPP, PET film & bags flakes.
Special Features:
strong design of double-bearing for holding the main shaft
high performance blades
temperature control
water flushing automatically
motor power from 18.5kw to 132kw
processing capacity from 50kg/h to 500kg/h
Our agglomerator is used to agglomerate the plastic scrap such as wet or dry recycling plastic films, PET fiber, woven bags,Soft PVC, LDPE, HDPE, PS, PP, foam PS, PET fibers and other thermoplastics,etc.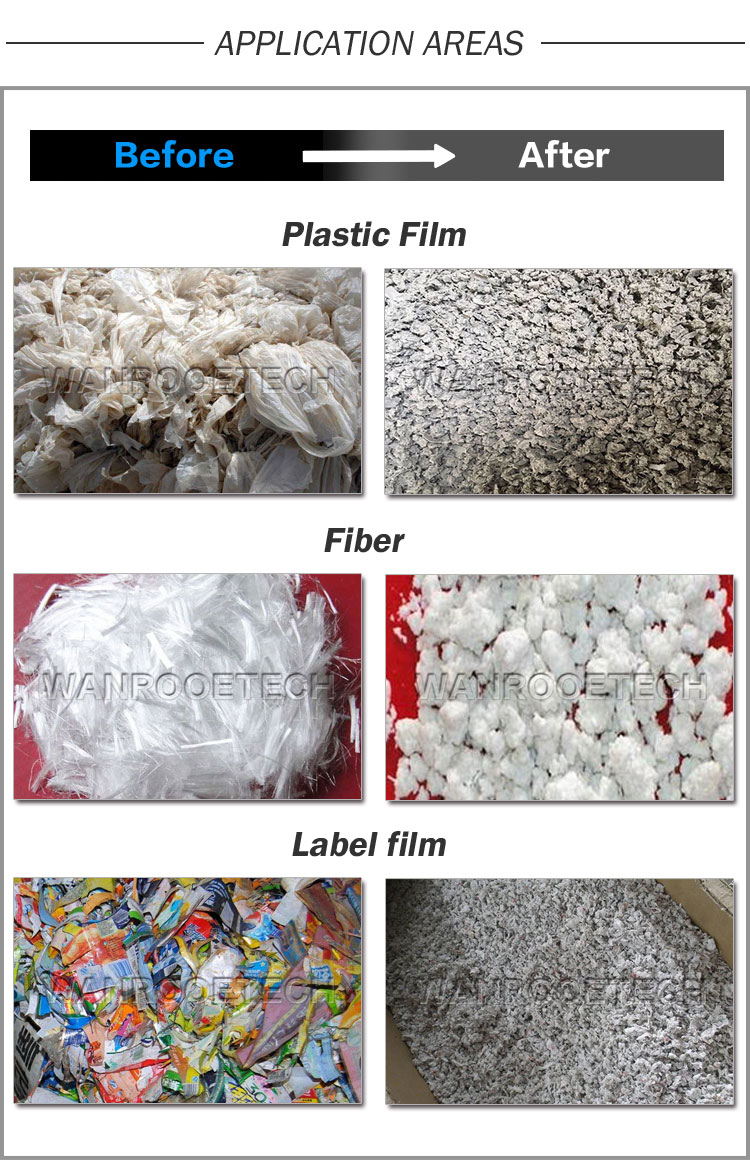 The compacting pellets can be directly used for extrusion machines, injection molding machine using. If necessary, we also can pelletize them using these densified material.
Technical Info:

Model

PNTL-100

PNTL-200




PNTL-300




PNTL-500




PNTL-600




PNTL-800




Total Cubage

100L

200L

300L

500L

600L

800L

Effective Cubage

75L

150L

225L

375L

450L

600L

Main Shaft Speed

1,000RPM

1,000RPM

950RPM

750RPM

750RPM




750RPM




Main Motor

22kw

37kw

55kw

75KW

90KW

110KW

Stationary Blades QTY

2PCS

2PCS

2PCS

4PCS

4PCS

4PCS

Rotating Blades QTY

6

6

8

8

8

8

Capacity

100-150kg/h

150-250kg/h

200-300kg/h

300-450kg/h

400-500kg/h

500-600kg/h

Compactor

Stainless Steel




Blade

D2 material,Hardness:58-62




Material

PP/PE film,PP woven bag scraps etc
Product Type: Plastic Densifier,Agglomerator Plastic,Plastic Compactor,Waste Plastic Densifier
Used For Material: Plastic Film, PP Film, PE Film,Waste Plastic,Chemical Fiber,PP woven bag scraps
Place of origin: China
Price Terms: FOB, CIF
Payment Terms: L/C,or T/T
Package: Wood Box, Wood pallet, tailor-made
Delivery Time: 15-30Working days
Brand Name: WANROOETECH
Delivery Times
30-90 working days since receiving advance payment. If you cannot wait for this suggested delivery time, please contact us freely, we will make any arrangements we can to meet your requirements.
Packing
Wood Pallet, fumigation-free wooden cases if necessary. All the key parts of the equipment will be painted with anti-rust oil before shipment and packing.
Technical documents
WANROOETECH will offer you all necessary documents, e.g. general layout plan, electrical diagram and user manual after the contract is executed.
Arrangement for inspection, installation and testing work
After informed machines ready for inspection, customer can send engineers to WANROOETECH; Customer also can consign WANROOETECH to finish inspection work.
When the machines are delivered to customer's factory, please arrange preparation work before engineers arrive if require.
WANROOETECH will send technicians to the factory after preparation work is completed;
Technicians will be responsible for guide on-site installation and testing machines involved.
Meanwhile technicians will give free training lessons to labors in customer's factory.
The customer just needs to bear expenses generated for this work, e.g. airplane tickets (round-way), residency, meals and allowance of USD50 per day for each technician.
Quantity and quality guarantee
A: Quantity/Quality Discrepancy to destination port during transportation:
In case of quality/quantity discrepancy to destination port in transportation, customer should file claim within 30 days after the arrival of the goods at port of destination.
B: Guarantee period and after-sales services:
12 month since installation finish and machine normal working. During this guarantee period, WANROOETECH will provide spare parts without any charge in case of quality discrepancy caused by us. If the malfunctions are caused by your incorrect operations, WANROOETECH will provide spare parts at cost.
C: Long-term service:
WANROOETECH will charge the buyer cost of spare parts beyond guarantee time and provide long-term technical guide.