Fiber Clothes Compactor Agglomerator Machine For Plastic Recycling
View large picture
Description

Video

Business Terms

Equipment Service
Description:

The plastic agglomerator/densifier /compactor machine is used to agglomerate the plastic scrap such as wet or dry recycling
plastic films, PET fiber, woven bags, PVC, LDPE, HDPE ,PS and other thermoplastics
whose thickness is less than 2 mm into small granules & pellets directly. It is a necessary and economical machine for the PP PE plastic pelleting production line and the PP PE PVC pipe production line. it is also one necessary auxiliary machine for the plastic recycling production line.
When the waste plastic is supplied into the chamber, it will be cut into smaller chips due to the crushing function of the rotating knife and fixed knife. During the crushing processing, the material that soaked up lots heat from the frictional movement of material being crushing and the wall of container will be going to become semi-plasticizing state. The particles will stick with each other due to the function of plasticization. Before it sticks each other completely, the cold water pre-prepared is sprayed into the material being crushed. The water will be evaporated off quickly and the surface temperature of material being crushed drop down quickly also. So the material being crushed will become small particles or granules. It is easy to recognize the particles by different size and can be colored by using of color agent being putted into the container during the crushing processing.
1-Its working theory is different from ordinary extrusion pelletizer, no need electric heating, and can work whenever and wherever possible. It is jointly intelligent controlled by PLC& Computer, easy and stable for operations, and can save more electric power and manpower than common extrusion pelletizer.
2- strong design of double bearing for holding the main shaft,High performance blades,Water flushing automatically.
Application areas:
Our agglomerator is used to agglomerate the plastic scrap such as wet or dry recycling
plastic films, PET fiber, woven bags,Soft PVC, LDPE, HDPE, PS, PP, foam PS, PET fibers and other thermoplastics,etc.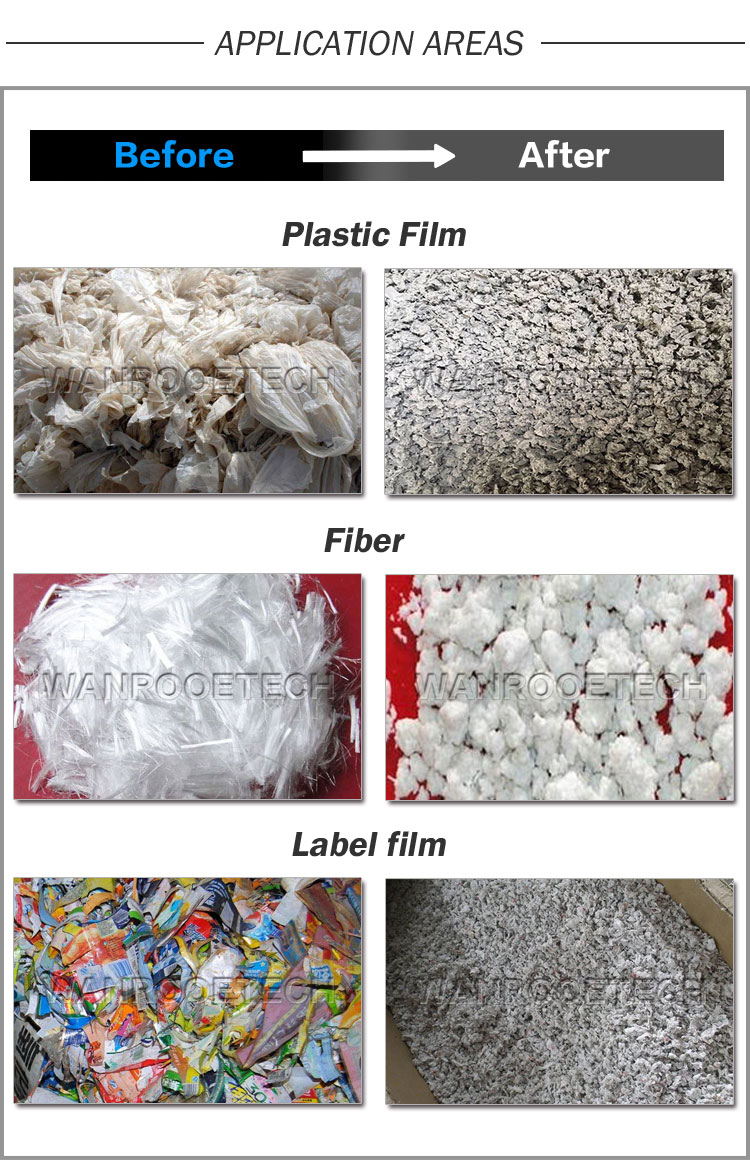 The compacting pellets can be directly used for extrusion machines, injection molding machine using. If necessary, we also can pelletize them using these densified material.
Fiber Clothes Compactor Agglomerator Machine Technical Info:

Model

PNTL-100

PNTL-200




PNTL-300




PNTL-500




PNTL-600




PNTL-800




Total Cubage

100L

200L

300L

500L

600L

800L

Effective Cubage

75L

150L

225L

375L

450L

600L

Main Shaft Speed

1,000RPM

1,000RPM

950RPM

750RPM

750RPM




750RPM




Main Motor

22kw

37kw

55kw

75KW

90KW

110KW

Stationary Blades QTY

2PCS

2PCS

2PCS

4PCS

4PCS

4PCS

Rotating Blades QTY

6

6

8

8

8

8

Capacity

100-150kg/h

150-250kg/h

200-300kg/h

300-450kg/h

400-500kg/h

500-600kg/h

Compactor

Stainless Steel




Blade

D2 material,Hardness:58-62




Material

PP/PE film,PP woven bag scraps etc
Product Type: Fiber Clothes Compactor Agglomerator Machine For Plastic Recycling
Used For Material: Plastic Film, PP Film, PE Film, PP woven bag scraps,Fiber Clothes
Place of origin: China
Price Terms: FOB, CIF
Payment Terms: L/C,or T/T
Package: Wood Box, Wood pallet, tailor-made
Delivery Time: 15-30Working days
Brand Name: WANROOETECH
Delivery Times
30-90 working days since receiving advance payment. If you cannot wait for this suggested delivery time, please contact us freely, we will make any arrangements we can to meet your requirements.
Packing
Wood Pallet, fumigation-free wooden cases if necessary. All the key parts of the equipment will be painted with anti-rust oil before shipment and packing.
Technical documents
WANROOETECH will offer you all necessary documents, e.g. general layout plan, electrical diagram and user manual after the contract is executed.
Arrangement for inspection, installation and testing work
After informed machines ready for inspection, customer can send engineers to WANROOETECH; Customer also can consign WANROOETECH to finish inspection work.
When the machines are delivered to customer's factory, please arrange preparation work before engineers arrive if require.
WANROOETECH will send technicians to the factory after preparation work is completed;
Technicians will be responsible for guide on-site installation and testing machines involved.
Meanwhile technicians will give free training lessons to labors in customer's factory.
The customer just needs to bear expenses generated for this work, e.g. airplane tickets (round-way), residency, meals and allowance of USD50 per day for each technician.
Quantity and quality guarantee
A: Quantity/Quality Discrepancy to destination port during transportation:
In case of quality/quantity discrepancy to destination port in transportation, customer should file claim within 30 days after the arrival of the goods at port of destination.
B: Guarantee period and after-sales services:
12 month since installation finish and machine normal working. During this guarantee period, WANROOETECH will provide spare parts without any charge in case of quality discrepancy caused by us. If the malfunctions are caused by your incorrect operations, WANROOETECH will provide spare parts at cost.
C: Long-term service:
WANROOETECH will charge the buyer cost of spare parts beyond guarantee time and provide long-term technical guide.