Hazardous Waste Shredder Chemical Industry Waste Double Shaft Shredder
View large picture
Description

Video

Business Terms

Equipment Service
Hazardous waste introduction:
Waste with toxic, inflammable, mordant, infective and intensive chemical reactivity or other harmful characteristics produced in industrial production. For example, electroplating slag waste, organic solvents waste, non-ferrous metal metallurgy waste and so on. Discharged arbitrary will cause serious harm to the health of water, atmosphere, soil and even the human body. It is very important to properly handle industrial hazardous waste. Industrial hazardous waste is relatively concentrated. The main treatment and disposal methods include resource utilization, incineration, solidification, stabilization, and landfill.
Hazardous waste shredder feature:
This hazardous waste shredder adopts planet gear speed reducer driving; the blade is made of high-strength alloy steel, featured by strong abrasion resistance and high strength, etc.; differential operation between axes has the functions of tearing, extrusion and occlusion, etc. It is specially designed for crushing various hazardous wastes, suitable for the refining of various hazardous wastes with the advantages of uniform discharging, controllable size, high output, and low noise, etc.
Hazardous waste shredder application:
Hazardous waste "rotary kiln - waste heat boiler" disposal system, hazardous waste cement kiln co-disposal, (crushing - mixing - pumping) system, hazardous waste treatment plant shredding system, 200L iron drum / plastic barrel, ibc ton barrel, etc. Industrial waste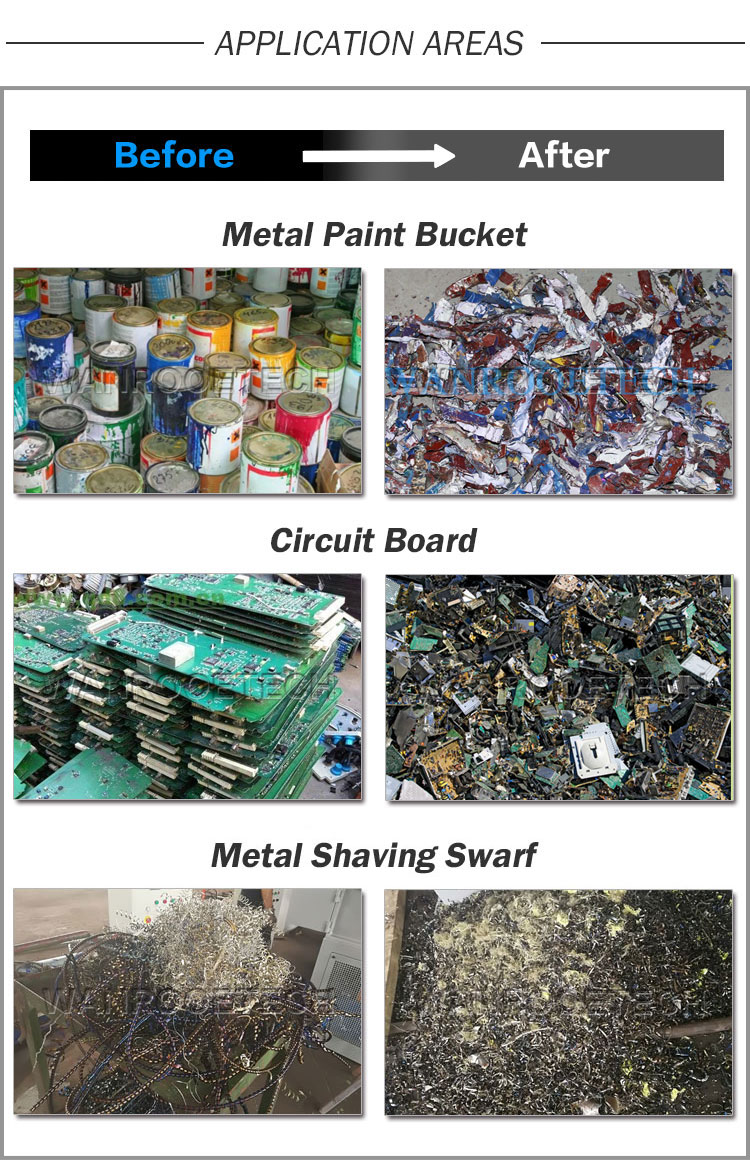 Wood Pallet Shredder Techinical Info:

| | | | | |
| --- | --- | --- | --- | --- |
| Model | Main Motor | Shredding Chamber dimesnion | Main rotor speed | Rotor Dia |
| PNSS-800A | 15~22kw | 600X800mm | 17RPM | φ284 |
| PNSS-1000A | 22~45kw | 600X1000mm | 17RPM | φ284 |
| PNSS-1200A | 30~55kw | 800X1200mm | 17RPM | φ284 |
| PNSS-1400A | 30~75kw | 1000X1400mm | 17RPM | φ430 |
Notes:The main shaft blades diameter, and also the tickness can be adjusted according to customer exclusive requirement.
Product Type:Hazardous Waste Shredder
Used For Material:metallurgical slag, mining waste, fuel waste, chemical industry waste etc
Place of origin:China
Price Terms:FOB, CIF
Payment Terms:L/C,or T/T
Package:Wood Box, Wood pallet, tailor-made
Delivery Time:60-90 Working days
Brand Name:WANROOETECH
Delivery Times
30-90 working days since receiving advance payment. If you cannot wait for this suggested delivery time, please contact us freely, we will make any arrangements we can to meet your requirements.
Packing
Wood Pallet, fumigation-free wooden cases if necessary. All the key parts of the equipment will be painted with anti-rust oil before shipment and packing.
Technical documents
WANROOETECH will offer you all necessary documents, e.g. general layout plan, electrical diagram and user manual after the contract is executed.
Arrangement for inspection, installation and testing work
After informed machines ready for inspection, customer can send engineers to WANROOETECH; Customer also can consign WANROOETECH to finish inspection work.
When the machines are delivered to customer's factory, please arrange preparation work before engineers arrive if require.
WANROOETECH will send technicians to the factory after preparation work is completed;
Technicians will be responsible for guide on-site installation and testing machines involved.
Meanwhile technicians will give free training lessons to labors in customer's factory.
The customer just needs to bear expenses generated for this work, e.g. airplane tickets (round-way), residency, meals and allowance of USD50 per day for each technician.
Quantity and quality guarantee
A: Quantity/Quality Discrepancy to destination port during transportation:
In case of quality/quantity discrepancy to destination port in transportation, customer should file claim within 30 days after the arrival of the goods at port of destination.
B: Guarantee period and after-sales services:
12 month since installation finish and machine normal working. During this guarantee period, WANROOETECH will provide spare parts without any charge in case of quality discrepancy caused by us. If the malfunctions are caused by your incorrect operations, WANROOETECH will provide spare parts at cost.
C: Long-term service:
WANROOETECH will charge the buyer cost of spare parts beyond guarantee time and provide long-term technical guide.
Didn't find what you are looking for? Post a buying lead.
Multifunctional Twin Shaft Shredder - manufacturer search on: Google, Yahoo, Msn
Related Searches: