Food Kitchen Organic Waste shredder
View large picture
Description

Video

Business Terms

Equipment Service
Food/Kitchen/Organic Waste shredder for shredding organic waste like fruits, vegetable, waste food, kitchen waste, bio waste. the output from 1 tons to 30 tons per hour. our shredder comes to the re-set function, which will protect the gears and axis and blades. the robust machine structure supports the heavy shredding.
Kitchen waste mainly refers to the daily life of residents, food processing, catering services, unit meals and other activities generated by garbage. Kitchen waste includes waste edible oil and kitchen waste. Waste edible oils and fats refer to non-edible animal, vegetable oils and oil-water mixtures, while kitchen waste refers to food residues and food processing wastes, mainly solid residues in kitchen waste, which is an important part of municipal solid waste.

Components: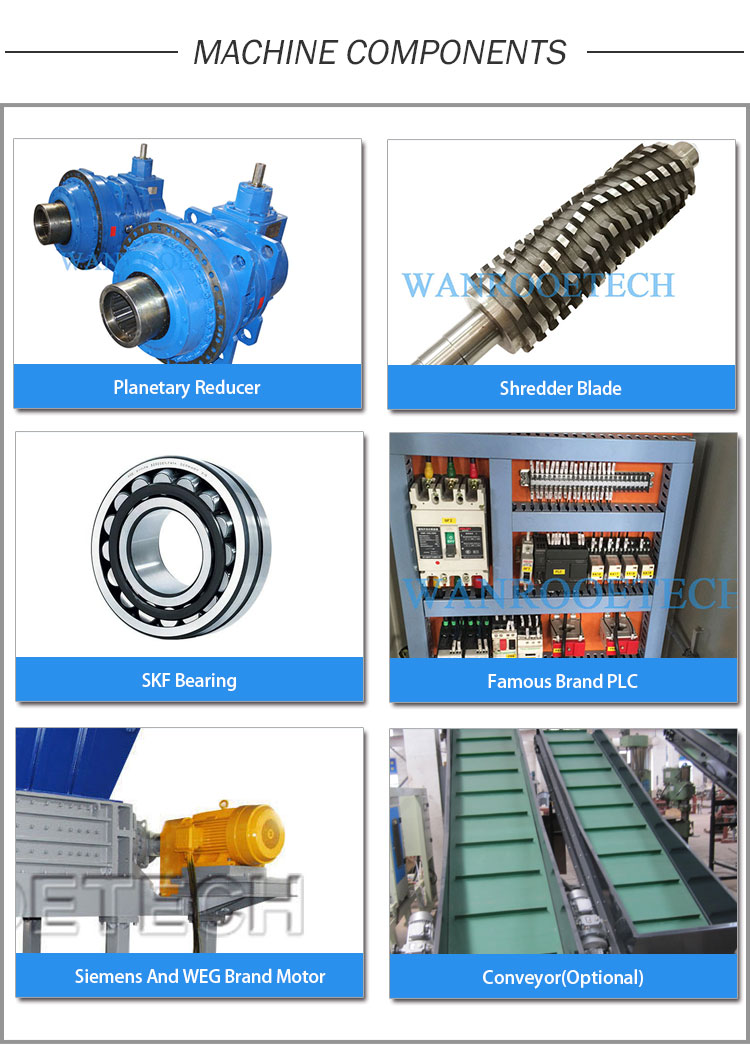 1. Our shredders can be employed as either a primary or secondary shredder and can be seen working anywhere from the waste management company to biofuel producers;
2. Dual shafted, slow-speed, high-torque waste shredder with hardened steel cutters;
3. The two cutting rotors powerfully grab the feed material, and no matter the feed material is large piece of hard plastic or heavy tires, this machine can easily shred them into small pieces;
4. Double shaft shredder is able to process a number of different materials; shredder is designed with a powerful engine, long working length and aggressive input, Internal feeding volume bigger than traditional and common single shaft shredder machine and allow you using forklift truck to feed.
5. Heavy structure: the frame and structure of our shredders are made of high-thickness sheets and tubular. Blades are manufactured from high quality steel, suitable for shredding tough materials and for extra long life;
6. Depending on requirement, these discs (blades) are available in a wide range of quantities, qualities and shapes with the new double-shaft shredder;
7. Any overloads caused by foreign material are sensed by the PLC controller and cause the shaft rotation to stop and reverse direction to clear the foreign matter, and then resume;
8.Cutters removal and replacement can be carried out safely and simply.
9. Our shredders Use a planetary reducer, not a traditional gearbox, and the planetary gearbox has the following advantages: High Efficiency, Greater Stability, Compact Size, Higher Torque Density, Cost Effective Precision, High Radial Loads.
10. Cooler system(optional) can maintain the temperature for continuous operation.
The ingredients of kitchen waste are complex, mainly including rice, flour food residues, vegetables, animal and vegetable oils, meat and bone, etc. From the chemical composition, there are starch, cellulose, protein, lipids and inorganic salts.

Food Waste Shredder, Kitchen Waste Shredder, Organic Waste Shredder General Info:
| | | |
| --- | --- | --- |
| Model | Shreddering Motor Power (kw) | Shreddering Chamber size(mm) |
| PNSS-300 | 7.5 | 510×300 |
| PNSS-400 | 7.5 | 510×400 |
| PNSS-600 | 7.5+7.5 | 510×600 |
| PNSS-800 | 18.5+18.5 | 600×800 |
| PNSS-1000 | 22+22 | 800×1000 |
| PNSS-1200 | 30+30 | 1000×1200 |
| PNSS-1400 | 55+55 | 1400×1200 |
| PNSS-1600 | 55+55 | 1600×1200 |
| PNSS-1800 | 75+75 | 1800×1400 |
| PNSS-2000 | 90+90 | 2000×1400 |
Product Type:Twin Shaft Shredder,Dual Shaft Shredder,Double Shaft Shredder
Place of origin:China
Price Terms:FOB, CIF
Payment Terms:L/C,T/T
Package:Wood Box, Wood pallet, tailor-made
Delivery Time:30-90 Working days
Brand Name:WANROOETECH
Delivery Times
30-90 working days since receiving advance payment. If you cannot wait for this suggested delivery time, please contact us freely, we will make any arrangements we can to meet your requirements.
Packing
Wood Pallet, fumigation-free wooden cases if necessary. All the key parts of the equipment will be painted with anti-rust oil before shipment and packing.
Technical documents
WANROOETECH will offer you all necessary documents, e.g. general layout plan, electrical diagram and user manual after the contract is executed.
Arrangement for inspection, installation and testing work
After informed machines ready for inspection, customer can send engineers to WANROOETECH; Customer also can consign WANROOETECH to finish inspection work.
When the machines are delivered to customer's factory, please arrange preparation work before engineers arrive if require.
WANROOETECH will send technicians to the factory after preparation work is completed;
Technicians will be responsible for guide on-site installation and testing machines involved.
Meanwhile technicians will give free training lessons to labors in customer's factory.
The customer just needs to bear expenses generated for this work, e.g. airplane tickets (round-way), residency, meals and allowance of USD50 per day for each technician.
Quantity and quality guarantee
A: Quantity/Quality Discrepancy to destination port during transportation:
In case of quality/quantity discrepancy to destination port in transportation, customer should file claim within 30 days after the arrival of the goods at port of destination.
B: Guarantee period and after-sales services:
12 month since installation finish and machine normal working. During this guarantee period, WANROOETECH will provide spare parts without any charge in case of quality discrepancy caused by us. If the malfunctions are caused by your incorrect operations, WANROOETECH will provide spare parts at cost.
C: Long-term service:
WANROOETECH will charge the buyer cost of spare parts beyond guarantee time and provide long-term technical guide.
Didn't find what you are looking for? Post a buying lead.
Multifunctional Twin Shaft Shredder - manufacturer search on: Google, Yahoo, Msn
Related Searches: