Waste Recycling Plastic Shredder Crusher Machine
View large picture
Description

Video

Business Terms

Equipment Service
Description:

The shredder-cusher machine is mainly used to grind,crusher and recycling the lump or block plastics,such as:large diameter HDPE pipe ,big soild block of plastic ,plastic barrel etc.And its end plastic scraps size is about 3-8mm,which can be directly used for your injection machine and extruder machine.
Advantages:
1.Compacted designed structures, space saving;
2.No need conveyor to connect single shaft shredder machine and traditional strong crusher, lower power consumption;
3.Higher efficiency;
4.Closed shredding and crushing chamber to avoid material spillage,friendly workshop environment etc;
5. Internal hydraulic pusher;
6. Intelligent PLC controlling system.
The Hydraulic Pusher
Runs on an fixed track roller bearing construction for low-maintenance operation;
Kinematics for balancing the slider contact pressure for problem-free operation;
Gimbal support for the slider cylinder.
The Shredding Rotor
Intelligent arrangement and operation of the individual blades for homogenous, smooth rotor running;
Alloy steel reinforced wear protection for extended service life;
Low thermal heating due to the hollow rotor enables economic shredding despite low melting point of the material;
The whole rotor is processed on CNC, which can make sure the higher precision.
Single Shaft Shredder 'V' shaped blades
Ultra hardness wear-resisting blades in a range of sizes, shapes and types for alignment with the respective task;
Rapid exchange design of the multiple-use blades for longer usability;
Enables greater shredding performance;
Each Rotating-blade has four cutting edge, can rotate 90 continue to use after wearing; Each stator has two cutting edge, can rotate 180 continue to use after wearing; which strengthen the replace ability of the blades and use period, reduce the cost as well.
Features:
Heavy burden type bearing with oil-sealed device and soundproof ply can keep the unit from shocking and noise, and prevent the material from pollution;
Blade are made of imported material, SKD11, through special manufacture process and heat treatment, the blades become more durable;
Special claw and paddle blade designs can crush any hard or soft material extremely easier;
Adjustable blade can be sharpened up while blunt and reused to prolong its life;
The separation design of the crushing chamber and material bin allows the mesh screen to discharge and clean easily;
Equipped with castor for easy moving from bottom of the shredder machine, which give a great help for maintenance.
Intelligent PLC Controlling System
Soft-start control for gentle start and minimal wear;
Intelligent control technology, connected with a modern PLC;
Analogue flow measurement for main motor current to detect the shredder load;
Program blocks (flow measurement and parameters) facilitate the individual alignment of the input material and increased throughput;
Manual and automatic operation model.
Main Driving System
Sufficiently dimensioned quality gearing for long service life;
Gentle V-belt drive for protecting the mechanism and speed adjustment;
Shock absorber as torque support for the gearing;
Enables the toughest of application options.
Components:

Application Areas:
The single-shaft shredder is used to recycle plastic, paper, wood, fiber, cable, rubber, home appliance, light steel, municipal solid waste, etc. It is ideally suited for reduction of a wide range of different materials:
•Refuse-derived fuel: straw, municipal solid waste;
•Textile: cloth fibre, nylon;
•Paper: industrial waste paper, packing paper, cardboard paper;
•Cable wires: copper core cable, aluminium cable, composite cables;
•Polypropylene pipe, industrial packaging & plastic films, PP woven bags;
•Plastic: plastic block, plastic sheets, PET bottle, plastics pipe, plastic container, plastic drums.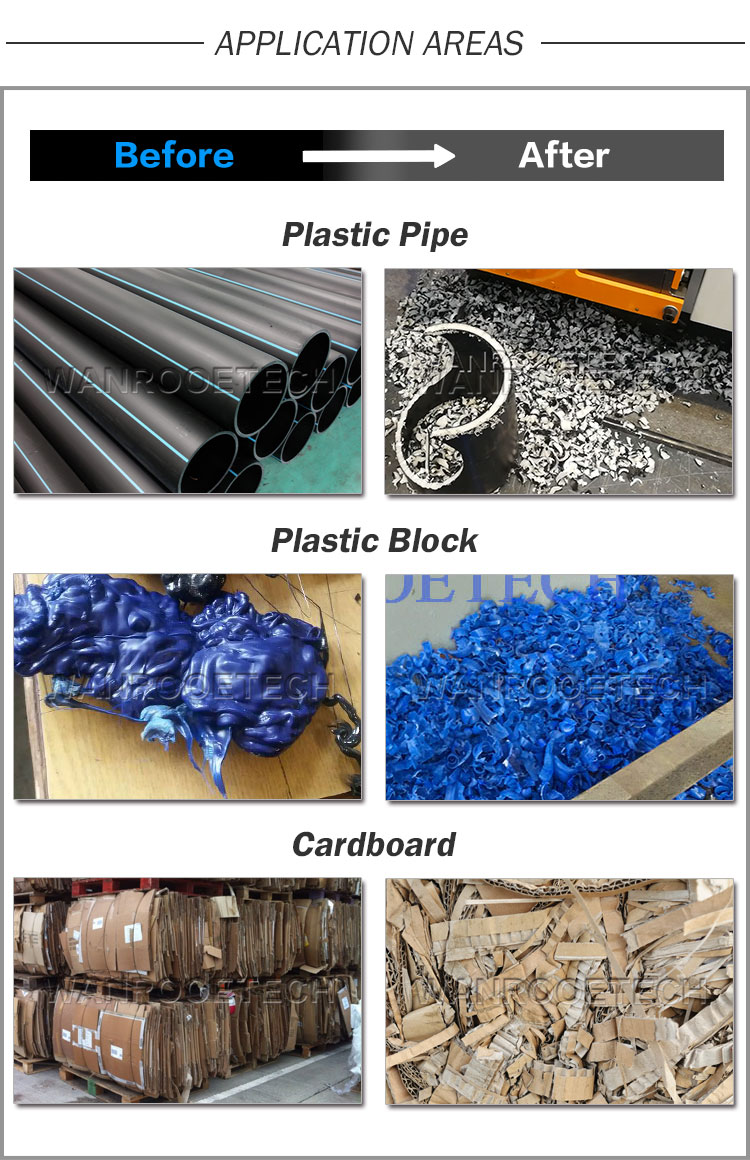 Single Shaft Shredder Built With PNSC Strong Crusher Models
Models




Shredder Rotor Dia




Shredder Main Motor




Crusher Rotating Dia




Crusher Main Motor




End Granules Size




Weight




PNDS-600C1




¢

270mm




22KW




¢

300mm




15KW




¢

3-10mm




3800kg




PNDS-600C2




¢

400mm




30KW




¢

400mm




22KW




¢

3-10mm




4600kg




PNDS-800C




¢

400mm




37KW




¢

400mm




30KW




¢

3-10mm




5200kg




PNDS-1000C




¢

400mm




45KW




¢

400mm




37KW




¢

3-10mm




6500kg



Product Type: Plastic Shredder Crusher,Plastic Pipe Shredder Crusher,Plastic Recycling Machine,Plastic Lump Shredder
Used For Material: HDPE Pipe,PVC Pipe,Lump Plastic,Block Plastic,Large Diameter Plastic Pipe,Waste Plastic from Extruder
Place of origin: China
Price Terms: FOB, CIF
Payment Terms: L/C,or T/T
Package: Wood Box, Wood pallet, tailor-made
Delivery Time: 15-30Working days
Brand Name: WANROOETECH
Delivery Times
30-90 working days since receiving advance payment. If you cannot wait for this suggested delivery time, please contact us freely, we will make any arrangements we can to meet your requirements.
Packing
Wood Pallet, fumigation-free wooden cases if necessary. All the key parts of the equipment will be painted with anti-rust oil before shipment and packing.
Technical documents
WANROOETECH will offer you all necessary documents, e.g. general layout plan, electrical diagram and user manual after the contract is executed.
Arrangement for inspection, installation and testing work
After informed machines ready for inspection, customer can send engineers to WANROOETECH; Customer also can consign WANROOETECH to finish inspection work.
When the machines are delivered to customer's factory, please arrange preparation work before engineers arrive if require.
WANROOETECH will send technicians to the factory after preparation work is completed;
Technicians will be responsible for guide on-site installation and testing machines involved.
Meanwhile technicians will give free training lessons to labors in customer's factory.
The customer just needs to bear expenses generated for this work, e.g. airplane tickets (round-way), residency, meals and allowance of USD50 per day for each technician.
Quantity and quality guarantee
A: Quantity/Quality Discrepancy to destination port during transportation:
In case of quality/quantity discrepancy to destination port in transportation, customer should file claim within 30 days after the arrival of the goods at port of destination.
B: Guarantee period and after-sales services:
12 month since installation finish and machine normal working. During this guarantee period, WANROOETECH will provide spare parts without any charge in case of quality discrepancy caused by us. If the malfunctions are caused by your incorrect operations, WANROOETECH will provide spare parts at cost.
C: Long-term service:
WANROOETECH will charge the buyer cost of spare parts beyond guarantee time and provide long-term technical guide.